So we got some rockin' awesome holiday gifties on Friday. We got jackets from the producers (which I knew, because I helped bag them) and we all got iPod Touchs from the cast. Sweet! Then we had our party after taping the last show before the break. Lots of fun, and our writers sponsor a raffle. Everyone's name is entered, and they draw for each prize. The prizes were gift cards for various places, in pretty substantial amounts. And then the writers make it even more fun by making jokes (usually at each other's expense) and adding cash to the prize. Totally fun to watch, and I was particularly thrilled to see two of our p.a.'s win, not just because they don't make much money, because also because they both are really sweet people.
I, however, wasn't feeling any sort of excitement or anticipation because I never win stuff like that. I just don't have that kind of luck. I'm the person who, if there are ten prizes and eleven people, I'm the one who doesn't win. Which, you know, is okay, because I'm lucky in other aspects of my life. Well, I actually won on Friday night! $500 in gift cards to Nordstroms, and $700 in cash. I'm seriously considering French kissing all the writers, even Susan. ;)
So I was incredibly psyched about that. And my KitchenAid mixer arrived on Friday,and I finally got to play with it last night. I love it! That thing is seriously awesome.
I had breakfast with a friend and her kids on Saturday morning, and I got birthday prezzies!!! And then Saturday night we went to see AC/DC. Here's a picture I took with my iPhone from our seats: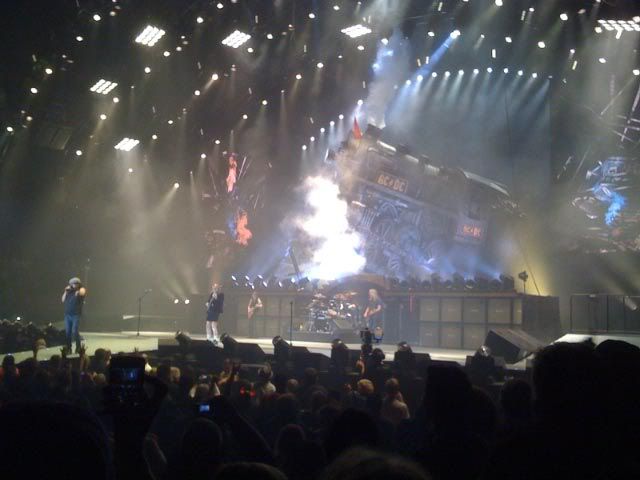 Good show. Came in this morning to our holiday gifts for the other show. AND baked treats from my old boss as a belated birthday present. Which is funny, because last night I made cupcakes just to be able to play with the KitchenAid mixer. I'll make icing for those tonight so the boyo can take them into work tomorrow. Because I don't need that many baked goods in my house! Plus our holiday party for the other show is tomorrow night, so, you know, more food. And then one of the women I ended up walking with the second day of the Avon Walk is in town for business on Thursday, so we're meeting up for dinner.
Thank God the boyo decided he didn't want to go to his office holiday party this year. I seriously don't think I can keep eating like this!